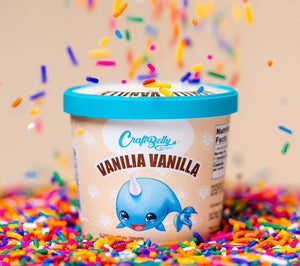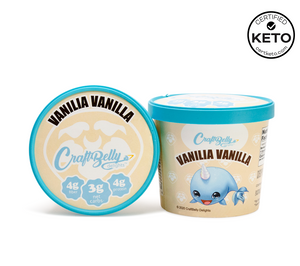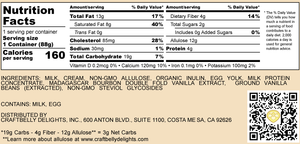 Product description
Creamy vanilla with specks of real vanilla bean to entice your senses.  The flavor that is the center of the Crafterra Galaxy.
Our Vanilia Vanilla ice cream is deliciously inviting.  Each spoonful is a gateway to wonderful memories shared while creating new pleasures in the blissful daydreaming of future adventures.  Our Vanilia Vanilla ice cream may be deceptively simple, but we think it brings cosmic joy with each bite.
Lore:  The Vanilia System is at the center of the Crafterra Galaxy.  It is (or was) the home of the Delight, the all powerful force that once kept the Crafterra Galaxy in Harmony.
Servings per pack
Each pack contains four (4) single serve cups
(1/2 cup each; $2.50 per single serve cup) for a total of one (1) pint.
Serving size
Serving Size: 1/2 cup (88g) Serving per Container: 1 serving
Shipping minimum orders
Unfortunately, shipping ice cream is super expensive, since we need to ensure that it stays frozen during transit. We try to keep it simple by charging a flat shipping fee with a four (4) pack minimum (e.g., 4 packs equals 16 single serving cups (or 4 pints total)) as follows:
FedEx Delivery: $14.99
For more information about shipping, please visit here.
Reviews
Makes a great gift!
I gifted this ice cream to a friend who is on keto. I sent it to her directly, it was seamless. She gave one to her brother who is not on keto and he said it was delicious!
Mrs Thu
What an amazing ice cream brand!
It's diabetic friendly so everyone can enjoy it.
The flavors are awesome!
Especially coffee and vanilla flavor. Those are my favorite!
I enjoy it very much!!
Best Vanilla ice cream ever
I have wheats thought that vanilla ice cream was a bit on the plainer side but this is literally out of this world. You can tell that they use nothing but the best ingredients. It's so rich and creamy with the perfect amount of high quality vanilla. This is my favorite flavor!

SUPER PREMIUM

NO SUGAR ADDED

NO GUMS & ADDITIVES
LOW NET CARBS

ALL NATURAL

GLUTEN FREE
Tasty Recipes
Enjoy tasty guilt-free desserts! From creamy ice cream cakes to indulgent sundaes, we've got a recipe for every occasion and for every sweet tooth.
View All Recipes