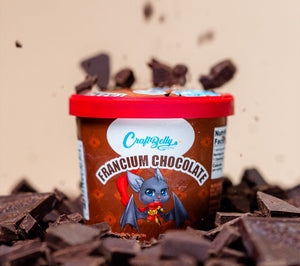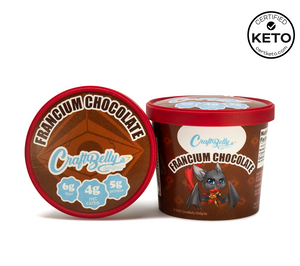 Product description
Packed with amazingly dark, rich chocolate flavor. The most sought after flavor in all of the Crafterra Galaxy.
Francium Chocolate ice cream is dark and rich.  Each bite packs a wallop of chocolate flavor.  We take special pride in packing all that real, chocolate flavor into such a small package.  Take a journey with our chocolate ice cream and discover how big taste can come from simple ingredients.
Lore:  Francium Chocolate is produced only on the planet Francia.  The process of combining Francium elements to make Francium Chocolate is a closely guarded secret.
Servings per pack
Each pack contains four (4) single serve cups
(1/2 cup each; $2.50 per single serve cup) for a total of one (1) pint.
Serving size
Serving Size: 1/2 cup (88g)
Serving per Container: 1 serving
Shipping minimum orders
Unfortunately, shipping ice cream is super expensive, since we need to ensure that it stays frozen during transit. We try to keep it simple by charging a flat shipping fee with a four (4) pack minimum (e.g., 4 packs equals 16 single serving cups (or 4 pints total)) as follows:
FedEx Delivery: $14.99
For more information about shipping, please visit here.
Reviews
Fabulous Coffee Ice Cream
The Coffee ice cream is wonderful!!
Can NOT tell the difference of this from Hagen Daz!! Add sugar free cool whip and cinnamon … and some strawberries if available…. Yum yum!!!!
Perfect size also!!!
Will definitely order more of these!!!
So much chocolatey goodness
I have never been a fan of chocolate ice cream until I tried this! Wow! This definitely gave me a new perspective on chocolate ice cream. Give this a try! You won't be disappointed!

SUPER PREMIUM

NO SUGAR ADDED

NO GUMS & ADDITIVES
LOW NET CARBS

ALL NATURAL

GLUTEN FREE
Tasty Recipes
Enjoy tasty guilt-free desserts! From creamy ice cream cakes to indulgent sundaes, we've got a recipe for every occasion and for every sweet tooth.
View All Recipes