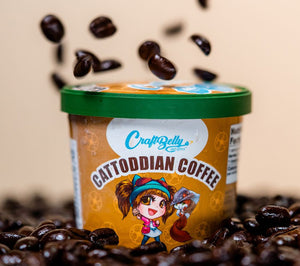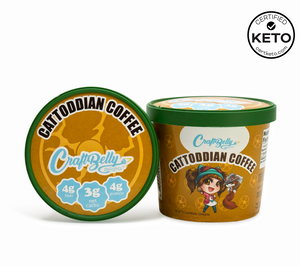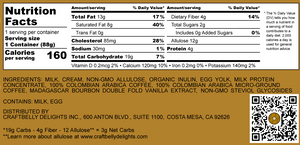 Product description
Rich, robust coffee flavor with a hint of vanilla to soften the high notes. The flavor that moves the Crafterra Galaxy. A taste of Cattoddian Coffee ice cream can be an energizing spark in the late afternoon or a quiet summer morning in a spoon.  Enjoy the wonderfully rich aroma of 100% Colombian Arabica coffee with a dash of Madagascar Bourbon vanilla as it dances harmoniously with the coffee.  Sit back and experience true coffee bliss that will stimulate your awareness.
Lore:  Cattoddia is the largest planet in the Rubica System. The energy from the unprocessed bean produces beautiful lights that can be seen from space.  Cattoddia is also known as Starlight Point, and it produces the best coffee in the Crafterra Galaxy. 
Servings per pack
Each pack contains four (4) single serve cups
(1/2 cup each; $2.50 per single serve cup) for a total of one (1) pint.
Serving size
Serving Size: 1/2 cup (88g)
Serving per Container: 1 serving
Shipping minimum orders
Unfortunately, shipping ice cream is super expensive, since we need to ensure that it stays frozen during transit. We try to keep it simple by charging a flat shipping fee with a four (4) pack minimum (e.g., 4 packs equals 16 single serving cups (or 4 pints total)) as follows:
FedEx Delivery: $14.99
For more information about shipping, please visit here.
Reviews
Perfect
Absolutely love this ice cream!! Could never tell it is sugar-free (extremely low sugar) and is a perfect size. The they are all perfect with sugar-free cool whip, strawberries, and a sprinkle of cinnamon!!! YUM YUM!!!
Delicious!
All three flavors are creamy and delicious, but the Cattoddian Coffee is my favorite. Will definitely buy these again.

SUPER PREMIUM

NO SUGAR ADDED

NO GUMS & ADDITIVES
LOW NET CARBS

ALL NATURAL

GLUTEN FREE
Tasty Recipes
Enjoy tasty guilt-free desserts! From creamy ice cream cakes to indulgent sundaes, we've got a recipe for every occasion and for every sweet tooth.
View All Recipes